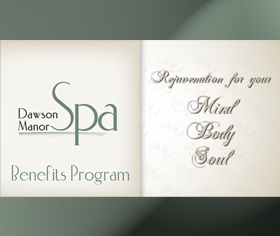 Dawson Manor Spa Benefits Program Memberships
The Smart Way to Spa!
As part of this exclusive program you will enjoy savings on services and retail purchases for one full year. With 3 levels to choose from and starting
from as low as $50, you can decide how much you save on your spa services and home care purchases. Ask our front desk for more details or
emails us at SpaSmart@DawsonManorSpa.com
Benefits Program terms and conditions Program participation commences the date of purchase and expires 1 year from that date. Purchases made as gifts are valid until the month of purchase end, the following year. HST is applicable on all services and retail purchases. Excludes RMT Massage. Price reduction based on regularly priced services and in-stock retail products. Cannot be used in conjunction with gift card purchases. May be used in conjunction with Dawson Manor Spa dollar value gift cards and eCertificates. If your Benefits Program (Level II and III) allows you to share your savings with a guest, you must both be present for services. The service value for your guest(s) must be equal to or greater than your service value. Visit with a friend Benefits cannot be banked, rolled over or combined. Non-refundable. Non-transferrable. Benefits Program Card must be presented each time. Previous transactions will not be adjusted. Full details are available at Dawson Manor Spa.